The Beacon Council Discusses Economic Development of South Dade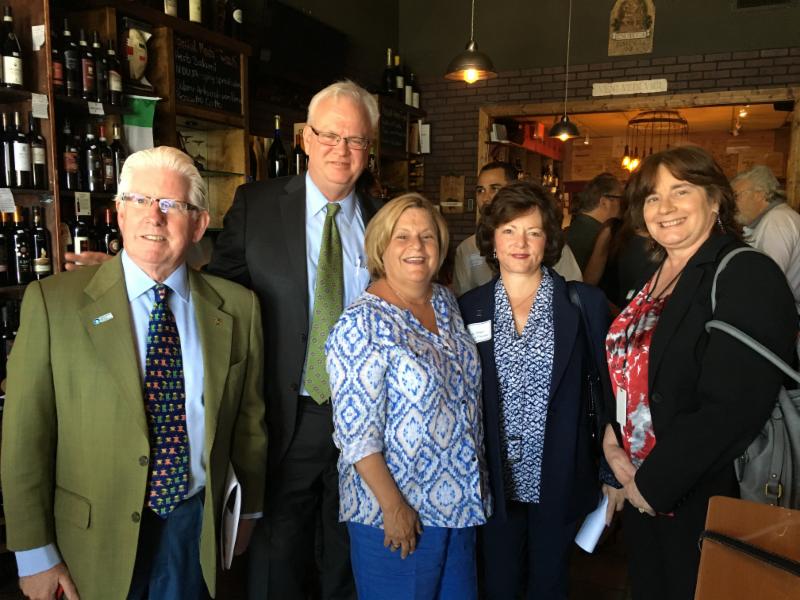 The Beacon Council President & CEO Larry K. Williams presented information about the organization's efforts in South Dade during a luncheon sponsored by Community Newspapers. Williams was honored for his leadership with a proclamation from school board member Dr. Larry Feldman at the luncheon. The proclamation was presented by Bill Talbert, Greater Miami Convention & Visitors Bureau; Merrett R. Stierheim, Founding Beacon Council Chair; and George Burgess, Beacon Council Board Member. The luncheon was attended by U.S. Representative Ileana Ros-Lehtinen, as well as other business and community leaders. South Dade has some unique and value assets including:
* Miami Executive Airport (Previously Kendall-Tamiami General Airport) 
* Homestead Air Reserve Base 
* Palmetto Bay Village Center. 
The Beacon Council is currently working with 122 companies, some of which are thinking about locating in South Dade including 
a pharmaceutical business, medical-device company and a global manufacturer. 
Military Workshop Connects Small Businesses to Government Contracts 
8 a.m. to noon
Friday, May 20
@Blue Lagoon Hilton
Military Miami-Dade, a program of The Beacon Council and the State of Florida Department of Economic Opportunity, is presenting a business development workshop to help connect small businesses with government contracts. 
The program also focuses on the need to assist returning military personnel in finding employment and re-establishing their lives as civilians. Military Miami-Dade has established the Joining Forces Miami program that encourages local businesses to hire returning military, veterans and spouses. 
Military installations represent a vital component to our economy contributing close to $6 billion annually and supporting thousands of well-paying jobs.
For more information, call 786/493-1754 or 
read more.
Initial Results from 
Asia Mission Reported
Miami-Dade Commissioner José "Pepe" Diaz, Vice Mayor of Shanghai Hon Zhao Wen, City of Doral Councilman Pete Cabrera and Beacon Council Mario Sacasa met at the Shanghai Municipal City Hall during the recent Mission to Asia. The i
nitial results from the mission include 
60 new business contacts and six
 new prospects.
In related news, Miami International Airport officials recently hosted the second meeting of the MIA Asia Task Force to review the results of travel surveys from more than 100 local organizations that have strong business ties to the Asian region. The group also discussed next steps in its efforts to secure first-ever nonstop passenger service between Miami and Asia. 
Investor Spotlight: Roberto R. Muñoz,
President, South Florida Market
BBVA Compass
Tell us a little about yourself. 
I have lived in Miami since 1956 and grew-up in Miami Springs. I left Miami to live in Hong Kong with my family in 1965 and returned in 1971. My Dad worked for Pan American Airlines and was charged with managing Asia, LATAM and the Caribbean. 
How did you first get involved with The Beacon Council?
I w
as invited by Larry Williams and Ernie Diaz to join The Beacon Council in 2013. I'm proud to have served on other community boards including FIBA (Florida International Banking Association); GMCC (Greater Miami Chamber of Commerce); Florida International University Center for Leadership; the Chapman Partnership; Center for Financial Training; Boy Scouts of America; and World Trade Center-Miami. 
What are Miami's top business assets? 
International business activity through airport, port, corporate, and small business entities. 
Why is Miami the best place for your business?
Location, Location, Location!
What are Miami's biggest challenges? 
Too much traffic and related peak-time congestion. 
What do you like best about living in Miami?
Our multi-cultural society and quality of life.
MIA Publication is Honored with Communicator Award
 
Miami International Airport's MIA Connections digital magazine was recognized with a Communicator Award. Published by HCP/Aboard Publishing for the Miami-Dade Aviation Department, the quarterly e-magazine won the Award of Distinction, which is presented to projects that exceed industry standards in quality and achievement. 
Freebee: Small Business Success Story 
 
Freebee is changing the way people experience Miami, physically moving the masses through FREE, electric transportation. In addition to being a fun, alternative transportation option, each Freebee car simultaneously hosts its own marketing campaign for a variety of clients, which include both national brands and local businesses, allowing consumers to become more familiar with each product, service, or establishment.
Next Generation Beaconite is Honored 
Miami-Dade Commissioner Dennis Moss, District 9, presented The Beacon Council CFO Camela Glean-Jones' son Andrew with an art award.
Attention: Small Businesses
Apply Now for Goldman Sachs 10,000 Small Businesses, Cohort 9 
Miami Dade College is accepting applications for the 10,000 Small Businesses Program, specifically Cohort 9. 
Join one of a series of available informational webinars through June 8. Deadline to apply is June 16.
Goldman Sachs 10,000 Small Businesses (10KSB) is a classroom-based practical business education program that gives entrepreneurs several benefits including valuable skills for growing their businesses, the opportunity to access financial capital and powerful networking opportunities at no cost to participants.
GIS Website Features Available Properties
The Beacon Council and Miami-Dade County website www.miamidadesites.com features available vacant industrial and commercial properties. It is based on user-defined criteria for Miami-Dade County utilizing geographically based demographic and business information. 
It also enables commercial real estate brokers to register and highlight available parcels. Listings are provided at no cost 
and reach a targeted audience including Site Selectors/Consultants, Real Estate Developers, and businesses pursuing new opportunities in Miami-Dade County. Listings are featured regularly in this newsletter. 
 

Featured listing of the week:
Lago Industrial
Address: 1867 NW 97th Avenue
City: Miami
County: Miami-Dade County
Zip Code: 33172
Type: Other
Min Size:900 sqft
Max Size:900 sqft
Publication Date Long:
May 16-22, 2016 NEWSLETTER
Left Side:
Did you know?
500 Startups, a leading global venture capital seed fund and startup accelerator, is making its way into Miami to help grow businesses that reach Latin American audiences.
It is known for its high-volume investing approach. It's invested in over 1,500 startups, typically putting in $50,000 to $100,000 and doubling down with some of those in future rounds. 
Read the Miami Herald article.
Save the Date
Access Breakfast
Bank of America and The Beacon Council invite you to a panel discussion on: 
"Building the Talent that Fuels Our Innovation
 Ecosystem"
Save the Date
Key Ceremony
Wednesday, March 9th  @ Conrad Hotel Miami
Join Miami-Dade County Mayor Carlos A. Gimenez, County Commissioners, local elected officials and The Beacon Council as we honor companies that have located or expanded in Miami-Dade over the last year as well as those from past years.
1395 Brickell Ave. Third Floor
6:00 p.m. 
Free Small Business Workshop Series Launches in January
 
Miami Dade College, School of Business. in partnership with Citi Foundation is offering Free seminars and workshops for small business owners.
Bottom Side:
As Miami-Dade County's official economic development partnership, The Beacon Council is charged with bringing new, job-generating investments to the community, while assisting existing businesses in their efforts to expand. By doing this, The Beacon Council facilitates the creation of quality jobs for each and every resident of Miami-Dade County. The Beacon Council is an accredited economic development organization. 
Will you join us? Call Member-Investors at

(305) 579-1326
(305) 579-1326
Source: Old Beacon Site
https://www.beaconcouncil.com/wp-content/uploads/2016/05/14739958-381c-4473-bb02-bc842bd063eb.jpg
600
800
wpengine
https://www.beaconcouncil.com/wp-content/uploads/2020/06/MDBC_rgb_color_hz.png
wpengine
2016-05-23 16:38:57
2016-05-23 16:38:57
The Beacon Council Discusses Economic Development of South Dade