University of Miami Inaugurates Julio Frenk as 6th University President
The Beacon Council congratulates University of Miami's new President Julio Frenk. 
President Frenk, the former Harvard dean and Minister of Health of Mexico, was installed as the university's sixth president on January 29 at UM's BankUnited Center. 
"We welcome Dr. Frenk to our community. We have already begun collaborating on our many similar priorities and look forward to continuing our excellent working relationship with the University of Miami – one of our community's most important assets," The Beacon Council President & CEO Larry K. Williams said.
UM also announced a 
$100 million gift for science and engineering programs from philanthropists, Phillip and Patricia Frost. The donation is one of the largest in UM's history. It was announced during the inauguration ceremony. 
UM conducted a series of events commemorating the event including: conversation with President Frenk and Miami historian-author and UM Trustee Arva Moore Parks about the University's history, milestones, and unforgettable moments and a preview event with Frenk outlining the journey the University will embark upon as it approaches its centennial. The UM President joins a prestigious group of who have led the University over the past 90 years: Donna E. Shalala (2001-2015); Edward T. Foote II (1981-2001); Henry King Stanford (1962-1981); and Jay F. W. Pearson (1953-1962).
2016 Beacon Awards:
 Nominate a Deserving Company 
The 14th Annual Beacon Awards nomination process has begun including a new social responsibility category. 
The Beacon Awards to be held 
May 4
 are bestowed annually to Miami-Dade County businesses who have led the way in creating new jobs and investment, as well as providing the leadership to grow their industry. 
The most prestigious honor of the evening, the Jay Malina Distinguished Award, will be given to an individual whose leadership and notable contributions have helped grow the local economy. Jorge Perez received the Award in 2015.
Awards categories include: Education, Small Business, Entrepreneurship and Corporate Social Responsibility (NEW), plus Target Industry Awards: Aviation, Banking & Finance, Creative Design, Hospitality & Tourism, Life Sciences & Healthcare, Technology, and Trade & Logistics.
Deadline: 
Friday February 26, 2016
Sponsorship Opportunities Available
Translation Provider Opens Miami Office  
E
x

pertness Business Consulting, a Brazil-based company that provides language translation services in English, Spanish, Portuguese, French, German, Dutch and Italian, is developing the U.S. market by opening an office in Downtown Miami. 
The company, which assists global business executives with languages and cultural references, selected Miami for this location because of the community's multilingual and multicultural environment. 
"Miami is our gateway to the U.S.," Evandro Gois, President & CEO of Expertness Business Consulting said. 
The Beacon Council worked closely with company leaders to identify potential office space including co-working spaces and other less traditional sites, and worked with Career Source South Florida to help find local talent. In addition, The Beacon Council provided demographic and wage analysis data for hiring employees at appropriate levels.
"Expertness Business Consulting recognizes that Miami's multilingual reach extends far beyond Spanish", The Beacon Council President & CEO Larry K. Williams said. "With more than 50% of our population being foreign born and 106 languages represented in our school system, Miami is a mecca for foreign language expertise."  
Gois said the company is prospecting business using the WorldCity Database. 
WorldCity is a Miami-based media and event company that produces the Who's Here Database of 1,400 multinationals in the Greater Miami area.
New Leaders Taskforce Discusses PortMiami's Economic Impact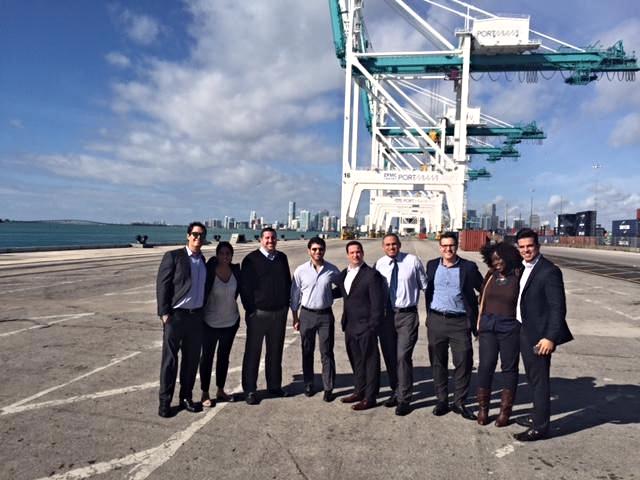 On January 26, The Beacon Council New Leaders Taskforce (NLT) held its monthly meeting at PortMiami, where the group was addressed by Director Richard R. de Villiers regarding PortMiami. The dialogue included the role PortMiami plays in the local and global economy as well as the impact that it has on the lives of those who reside in Miami-Dade. The conversation was followed by a tour of the Port where participants saw firsthand the scope and magnitude of the operations. NLT is charged with addressing talent retention. Now in its fourth year, the committee is comprised of leading young professionals who continue to build upon key partnerships and synergies with the public and private sector to create awareness around their mission. 
PortMiami is among America's busiest ports and is recognized around the globe as the Cruise Capital of the World and Cargo Gateway of the Americas. 
PortMiami contributes more than $27 billion annually to the South Florida economy and helps provide direct and indirect employment for more than 207,000 jobs. PortMiami is ready to welcome mega-size cargo ships – ahead of the opening of the expanded Panama Canal in 2016. 
Workshop Assists Small Businesses in Getting Finances in Order
The Beacon Council partnered with Miami Growth Advisors to present a small business workshop to assist with getting finances in order. The panel included Althea Harris, 
Assistant District Director for Marketing & Outreach, Small Business Administration; David Deza, 
VP, Relationship Manager |Business Banking at TD Bank and Betty Martin, 
CPA. Jody Johnson, Founder of Miami Growth Advisors, moderated the panel held on Jan. 29.
Register today for SUP-X Startup Expo
 
SUP-X: The Startup Expo is a two-day international startup conference and expo that will be held at the Broward Convention Center in Ft. Lauderdale on Feb. 16-17. The event is expected to draw 1500+ startup and early-stage entrepreneurs, angel and VC investors and related service providers from throughout North America. 
Discounted tickets available 
here
Application Deadline for Goldman Sachs 10,000 Small Businesses program extended until Feb. 17
 
Miami Dade College is still accepting applications for the 10,000 Small Businesses Program, specifically Cohort 8 scheduled to begin May 26, 2016, at the Wolfson Campus.
Goldman Sachs 10,000 Small Businesses (10KSB) is a classroom-based practical business education program that gives entrepreneurs several benefits including valuable skills for growing their businesses, the opportunity to access financial capital and powerful networking opportunities at no cost to participants.
RSVP for informational webinars running until Feb. 10.
GIS Website Features Available Properties
The Beacon Council and Miami-Dade County websitewww.miamidadesites.com features available vacant industrial and commercial properties. It is based on user-defined criteria for Miami-Dade County utilizing geographically based demographic and business information. 
It also enables commercial real estate brokers to register and highlight available parcels. Listings are provided at no cost 
and reach a targeted audience including Site Selectors/Consultants, Real Estate Developers, and businesses pursuing new opportunities in Miami-Dade County. Listings are featured regularly in this newsletter. 
For more information, contact Jennifer R. Hernandez, Director of Economic Development at The Beacon Council.
 

Featured listing of the week:
Arbor Place
Address: 15450 New Barn Road
City: Miami Lakes
County: Miami-Dade County
Zip Code:33014
Type: Office Building, Other
Min Size:805 sqft
Max Size:2,215 sqft
Publication Date Long:
Feb. 1-7, 2016 NEWSLETTER
Left Side:
Did you know?
The University of Miami awarded 2,774 bachelorsdegrees, 1,175 mastersdegrees, 416 J.D.s, 196 M.D.s, 183 Ph.D.'s, 25 other doctorates, and 61 certificates (2014-15)
The Beacon Council in the News
Logistics company to expand in Miami, create 75 jobs over three years – 
Freight brokerage to add 75 jobs in Miami after incentive deal – 
 
TQL will create 75 new jobs in Miami – 
 
South Florida Business Journal's Top 100 Power Leaders of 2016
Several members of The Beacon Council leadership team were featured in this year's South Florida's Power Leaders, not just a list of who is in charge, but a snapshot of our region's diverse economy, according to the publication. 
VOTE NOW 
Miami International Airport for USA Today's 10 Best Readers Choice Travel Award 
 
NewsLink stores at Miami International Airport and the airport itself have been nominated in USA Today's latest 10Best Readers' Choice travel award contest.
Vote to support MIA and its excellent amenities.
Voting ends February 10 at 11:59am EST.
Conversations about the Local Economy with The Beacon Council featured on 
The Pete De La Torre Business Hour 
'The Pete De La Torre Business Hour" heard each morning Monday through Friday from 8 to 9 a.m. will air the next Economic Development interview with The Beacon Council on Monday, Feb. 8 (the Feb. 1 show was postponed). Tune in for the live 
show live on
www.Petebizradio.com
 and on iHeartRadio. 
The State of Pharma and its Future in South Florida
@Hotel MIA Conference Center
Economic Roundtable – Preview 2016 
This event is for Beacon Council Investors exclusively.
Miami's International Women's Day Luncheon
March 8
Key Ceremony
Wednesday, March 9 @ Conrad Hotel Miami
Read more about sponsorship opportunities.
Bottom Side:
As Miami-Dade County's official economic development partnership, The Beacon Council is charged with bringing new, job-generating investments to the community, while assisting existing businesses in their efforts to expand. By doing this, The Beacon Council facilitates the creation of quality jobs for each and every resident of Miami-Dade County. The Beacon Council is an accredited economic development organization. 
Will you join us? Call Member-Investors at

(305) 579-1326
(305) 579-1326
Source: Old Beacon Site
https://www.beaconcouncil.com/wp-content/uploads/2016/02/8100b699-cc73-4ff3-ade7-694f76f1cc06.jpg
800
640
wpengine
https://www.beaconcouncil.com/wp-content/uploads/2020/06/MDBC_rgb_color_hz.png
wpengine
2016-02-22 19:16:17
2016-02-22 19:16:17
University of Miami Inaugurates Julio Frenk as 6th University President