14th Annual Beacon Award Winners
Meet Miami's Most Innovative and Successful Companies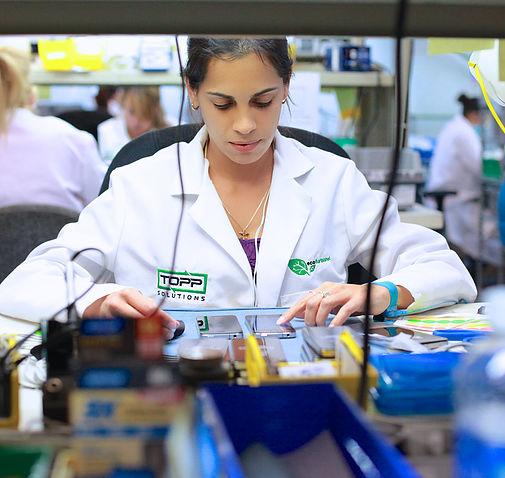 The 14th Annual Beacon Awards will showcase some of Miami-Dade's best businesses. The annual awards ceremony, to be held May 4 at the Hilton Miami Downtown, helps promote the One Community One Goal initiative to diversify the local economy and provide higher-paying jobs by highlighting Miami companies that have created jobs and invested in our local economy in a significant way. 
Each week, we are highlighting some of the winners. 
Entrepreneurship
EcoTech is among the Miami's first co-working space combined with green business incubator. The company supports 24 growing ecopreneur-driven Miami companies. EcoTech Visions is merging sustainability and tech by creating jobs, sustaining communities and protecting the planet. The company's philosophy is that the solution for climate change is economic. The company is working to achieve its vision of an oxygen-surplus planet through sustainable companies and, at the same time, cross train the urban Miami workforce into green economy careers. The company is currently expanding to more shared and dedicated office space and a vertical farm. 
http://www.ecotechvisions.com
Hospitality & Tourism
ACCOR North Americas is a French hotel group which operates in 92 countries. Headquartered in Paris, the group owns, operates and franchises 3,600 hotels on five continents representing several diverse brands such as the Sofitel and Novotel, from budget and economy lodgings to luxurious accommodations in exotic locales. The company is consolidating existing offices in New York City and Dallas into a new 14,513 square foot office in Doral adding 60 new direct jobs. http://www.accorhotels-group.com
Life Sciences & Healthcare
FIU's Center for Children and Families (CCF) is an international leader in developing and delivering treatment for child mental health disorders, serving approximately 3,000 children and families annually. This includes 1,600 children currently registered in a community of clinic-based summer readiness programs. The CCF partners with more than 300 Miami-Dade County Public Schools to provide effective care for children and adolescents struggling with mental health issues. The have expanded recently, more than doubling their job-numbers since 2013.
http://ccf.fiu.edu/
Trade & Logistics
PortMiami is Miami-Dade County's second most important economic engine, contributing $28 billion annually to the local economy and supporting more than 207,000 jobs in South Florida. It is recognized as the Global Gateway. Miami's unique geographic position makes the Port easily accessible to Caribbean and Latin American markets, as well as those of Asia and Europe by way of the Panama Canal. PortMiami is also known worldwide as the Cruise Capital of the World, welcoming more cruise passengers to its terminals than any other port in the world.
Corporate Responsibility
TOPP Solutions was established in 1995 as a high-level certified repair facility servicing manufacturers, insurance providers, and mobile network operators. Based in Miami, the company is a founding member of the West End Innovation Center, a technology hub for research and development, internships and job creation boosting the economy in the west end of Miami Dade County. The company is committed to bridging the "Digital Divide" with The Leon Project, where they take donated/used/broken tablets and E-condition them back to working order. The tablets are then distributed to autistic children from low-income families throughout Miami-Dade County. The company has also developed a strategic alliance with Florida International University School of Engineering in order to create green jobs and internships.
Technology
Easy Solutions is a security provider focused on the comprehensive detection and prevention of electronic fraud across all devices, channels and clouds. Last year, the company opened a new US Anti-Fraud Response Operation Center, known as the ROCK, in Miami. The facility houses the company's fraud and threat intelligence team that provides round-the-clock proactive detection, analysis, mitigation and shutdown of attacks targeting the company's more than 320 customers. The company nearly doubled its Miami staff since 2013.
The company's products range from fraud intelligence and secure browsing to multi-factor authentication and transaction anomaly detection, offering a one-stop shop for end-to-end fraud protection.  https://www.easysol.net/
Please join us to celebrate these great companies and the close to 100 nominated companies at the Beacon Awards on Wednesday, May 4th. 
State of Black Miami Summit held at Florida Memorial University
Job creation, education, and economic prosperity were key themes throughout the recent "ONE HERITAGE: State of Black Miami which was held April 7. The summit focused on fostering joint action in Miami-Dade County's diverse black population.  Miami-Dade County Commission Chairman Jean Monestime – along with County Commissioners Barbara Jordan, Audrey Edmonson and Dennis Moss, and Miami City Commission Chairman Keon Hardemon co-hosted this free daylong conference that featured four separate panel discussions on Black Miami's state of economic prosperity, community development, quality of life, and youth/next generation. The forum covered a range of topics including job creation, business opportunity, housing, transportation, education, health, youth violence, and criminal justice reform. 
Meet The Beacon Council and Miami Partners @eMerge Americas

The Beacon Council, Miami-Dade County, Miami Downtown Development Authority, Miami International Airport and other local organizations are working together to create a Miami experience at eMerge Americas.
Visit the Miami pavilion in the beginning of Section E and help us spread the word about the many significant developments in Miami's growing tech ecosystem. Hear from leaders shaping the Miami tech ecosystem and reasons why companies from all over the globe are making the decision to locate in Miami. 
Events at The Beacon Council Booth (E4) include:
Monday, April 18
11:20 a.m.
Signing Ceremony – Memorandum of Understanding (MOU)
The Beacon Council and ACCIÓ, represented by Jordi Baiget Cantons, Minister of Business and Knowledge of the Government of Catalonia, will work together to promote economic and commercial relations between Miami Dade County and Catalonia.
3:15 p.m.
Tech talk with Jim McKelvey – Co-founder of the groundbreaking mobile payments company, Square, and Founder of LaunchCode, a non-profit focused on solving the tech talent shortage and creating pathways to economic opportunity through apprenticeships and job placements.
Tuesday, April 19
3:15 p.m.
Tech talk with Michael Simkins, President and CEO of Innovate Miami, and the developer behind a planned 10-acre, 24-hour fully connected live-work-play technology ecosystem for innovation and entrepreneurship located in Park West, a neighborhood adjacent to Downtown and Overtown in Miami.
Investor Spotlight – Javier Avi

ñ

o, Partner, Government Relations and Land Development Group, Bilzin Sumberg
Tell us a little about yourself. 
I grew up in Miami and absent my undergraduate years in Boston, have lived in Miami continuously. My wife (Luly) and I have 2 amazing kids (Matias and Emma) and we all thoroughly enjoy travel and tennis and even better travel with tennis. We have commenced a bucket list of tournaments in great cities that we want to visit.  
How did you first get involved with The Beacon Council? 
Beacon Council has always been a critical organization in our community and for our law firm. I became involved because Beacon Council provides a platform that has an wide reach both from an industry standpoint and a geographic standpoint, which fits neatly within the context of my focus on international in bound and out bound investment. 
What are (Greater) Miami's top business assets?
Miami presents a great value compared to the more traditional U.S. markets, with real estate prices generally a third of New York's. This creates a much lower barrier of entry, which is a major draw for many high-net worth individuals and firms looking to expand into the next major market. Obviously Miami has long been known as a real estate and hospitality mecca and we continue to see unprecedented growth in these key sectors but we are also seeing the emergence of new areas including technology and venture capital. Miami's sophisticated financial center is incredibly adept at catering to international investors and Miami's culture and climate are also a natural fit for Latin American as well as Chinese, Russian and European markets. 
What are Miami's biggest challenges?
As Miami grows and diversifies it must establish the key components to a healthy business ecosystem. Among those key components are viable sources of capital, viable housing and a transportation system that functions. Miami has come a long way and recently we have seen key venture capital firms establish offices in Miami investing in growth companies. We have also seen a focus on workforce and affordable housing and believe we will see continued focus on Miami-Dade County housing. With respect to transportation we will see continued efforts to improve on various modes of transportation including Trolley systems, Metrorail and Metromover. In addition, we will continue to see growth of alternatives to owning vehicles like Uber, Lyft, as well as increased bicycle ownership. Developers in the urban core areas are also looking to reduce parking requirements and provide mechanical and robotic parking in order to minimize the bulk and scale of high-rise developments.  
What's next for your business/industry?
Miami will continue to see an increased growth in mixed use developments where people will live, work, and socialize within the same general areas, without the need of driving long distances. There will be an increase in workforce housing and more transportation oriented developments around major transportation hubs. Miami will also see more creative design solutions within the urban core with less dependency on cars. Specifically, we will continue to see the rise of development in the urban core with rental housing that will specifically attract millennials and the desire to be in City Center with core services. 
Miami-Dade's Mission to China 
Mario J. Sacasa, Senior Vice President, International Economic Development at The Beacon Council, is joining members of the Miami-Dade County Economic Development & International Trade Unit on April 11 on a mission to China with stops in Shaghai, Hangtzhou, Guangzhou and Taipei. Sacasa discussed the business development mission on April 4 during his radio interview on the Pete De La Torre Business Hour  
www.petebizradio.com
.
China is the third largest trading partner for the Miami Customs District (which runs from Fort Piers to Key West and MIA, PortMiami, Port Everglades and Fort Lauderdale International Airport are the most important points of entry). Total trade in 2014 was about $6.6 billion. The Miami Customs District imported about $6.2 billion in goods from China and exported about $445 million to China. There are six multinational in South Florida from China, as well as four from Hong Kong. In South Florida there are approximately 15,726 foreign born individuals from China and Hong Kong – 7,337 in Miami-Dade; 5,627 in Broward and 2,763 in Palm Beach County. 
Attention: Small Businesses
Apply Now for Goldman Sachs 10,000 Small Businesses, Cohort 9 
Miami Dade College is accepting applications for the 10,000 Small Businesses Program, specifically Cohort 9. 
Join one of a series of available informational webinars through June 8. Deadline to apply is June 16.
Goldman Sachs 10,000 Small Businesses (10KSB) is a classroom-based practical business education program that gives entrepreneurs several benefits including valuable skills for growing their businesses, the opportunity to access financial capital and powerful networking opportunities at no cost to participants.
GIS Website Features Available Properties
The Beacon Council and Miami-Dade County website www.miamidadesites.com features available vacant industrial and commercial properties. It is based on user-defined criteria for Miami-Dade County utilizing geographically based demographic and business information. 
It also enables commercial real estate brokers to register and highlight available parcels. Listings are provided at no cost 
and reach a targeted audience including Site Selectors/Consultants, Real Estate Developers, and businesses pursuing new opportunities in Miami-Dade County. Listings are featured regularly in this newsletter. 
 

Featured listing of the week:
Westpark Center
Address: 2794 NW 79 Avenue
City: Miami
County: Miami-Dade County
Zip Code: 33147
Type: Flex, Flex
Min Size:2,730 sqft
Max Size:2,730 sqft
Publication Date Long:
April 11-17, 2016 NEWSLETTER
Left Side:
Did you know?
  
Florida companies make $278 million in goods every day. 
The Beacon Council Parking Reminder
The building's parking garage at 80 SW 8th Street has reopened. The entrance is located on 8th Street about a block east of the former entrance. Stay alert as this is still a construction zone. 
The Beacon Council in the News
Time to return to level playing field to win county contracts 
The U.S. Green Building Council (USGBC) Miami Branch is hosting a Green Jobs Panel 
Wednesday, April 13
Miami Dade College Wolfson Campus
 
How Miami is implementing new technology to attract and retain investment
Panel Discussion
Thursday, April 14
African American Achiever Awards
Wednesday, April 20 
Miami-Dade County Internal Services Department
Small Business Development Division
Access to Construction Contracts Free Informational Session
Friday, April 22
Contact Lawanda Wright-Robinson at 305-375-3186
RSVP to
31st Florida State Minority Supplier Development Council Annual Business Expo
Is your business ready to go global?
Free workshop for businesses
Bottom Side:
As Miami-Dade County's official economic development partnership, The Beacon Council is charged with bringing new, job-generating investments to the community, while assisting existing businesses in their efforts to expand. By doing this, The Beacon Council facilitates the creation of quality jobs for each and every resident of Miami-Dade County. The Beacon Council is an accredited economic development organization. 
Will you join us? Call Member-Investors at

(305) 579-1326
(305) 579-1326
Source: Old Beacon Site
https://www.beaconcouncil.com/wp-content/uploads/2016/05/d7f92f08-1076-4df1-9d1d-dc5991c2a007.jpg
478
505
wpengine
https://www.beaconcouncil.com/wp-content/uploads/2020/06/MDBC_rgb_color_hz.png
wpengine
2016-05-23 15:59:31
2016-05-23 15:59:31
Meet Miami's Most Innovative and Successful Companies