North Miami: a City on the Move
| | |
| --- | --- |
| | |
| | North Miami Mayor Smith Joseph and Beacon Council President & CEO Larry K. Williams both discussed business development opportunities during the event |
North Miami Mayor Smith Joseph hosted the "Stronger North Miami Business Initiative Luncheon", a quarterly series focused on business development in North Miami on March 24. Economic development strategies took center stage with keynote speaker Larry K. Williams, President & CEO of The Beacon Council. Williams praised the Mayor and the City for its success in creating new opportunities for businesses to locate and grow in the city. Williams presented his vision for Miami-Dade's future economic development and discussed the key factors that companies consider when evaluating a location for expansion or relocation. Williams also shared how The Beacon Council assists businesses with their growth strategies. The luncheon included a panel discussion on business expansion opportunities with local business leaders, Harold Charles with CEEPCO Construction, Luis Tome with Imex, and Sheri Colas-Gervais with The Beacon Council.
Olga Ramudo Honored as Entrepreneur of the Year 
Olga Ramudo, President & CEO of Express Travel, recently received the LATINA Style Magazine Entrepreneur of the year award. 
Ramudo, a Beacon Council Executive Committee Member, "pioneered and led the charge to not only promote and grow the South Florida tourism industry, but also has provided an outstanding public role model as a successful women owned business…"
Czech Government and Business Leaders Connect with Miami's Business Community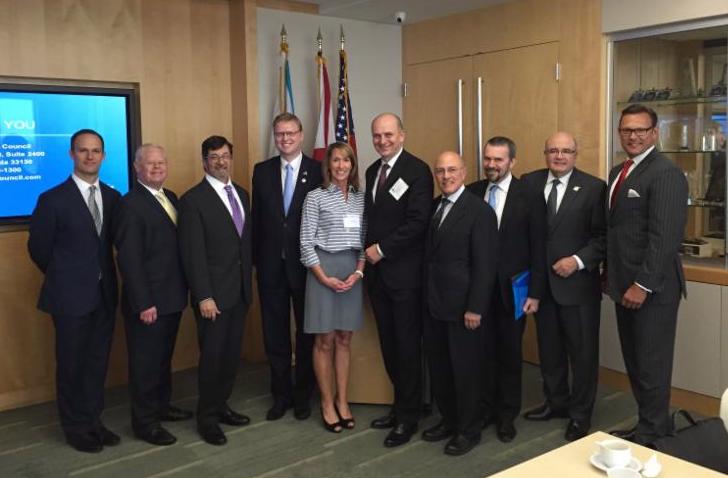 The Czech delegation visited PortMIami and Venture Hive. 
The Beacon Council and its International Advisory Committee chaired by Carlton Fields attorney Josh Markus welcomed Vice Prime Minister Pavel Belobradek of the Czech Republic and a multi-sector delegation of business, government and academic leaders who visited Miami-Dade to learn about opportunities for doing business in Florida. Alan Becker, past Chair of The Beacon Council, Vice-Chair of Enterprise Florida and former Honorary Consul of the Czech Republic for Florida hosted the luncheon briefing that was also attended by Czech Ambassador to the United States, Petr Gandalovič, Greater Miami Chamber of Commerce President Barry Johnson and Beacon Council Past Chair Joe Pallot. Vice Prime Minister Belobradek briefed the business leaders about emerging private sector opportunities in the Czech Republic and was very interested in learning about Miami's burgeoning industry sectors, specifically technology. The Czech delegation included businesses ranging from banking, aerospace, construction, technology and infrastructure. 
Investor Spotlight: 
Pablo Chiozza, SVP, LATAM Airlines Group, USA, Canada and the Caribbean 
How long have you lived in Miami? 
I first lived in Miami from 2005 – 2007 working as an Sales Director for Asia, Canad and the Caribbean. In 2012, I returned as the Vice President for the entire USA, Canada and Caribbean operation and was thrilled to call Miami home again.
Tell us something people might not know about you.
I'm Argentinean, married to an Italian raised in Ecuador and have a son born in Miami. So my family is a perfect example of what Miami is all about. People from all over the places with different cultural backgrounds.
How did you first get involved with The Beacon Council? 
LATAM Airlines Group (LAN Airlines, LAN Cargo and TAM Airlines) has a long history of working with the Beacon Council in South Florida. We are dedicated to growing our footprint in Miami, and The Beacon Council has played an integral role in assisting us to raise the capital and support that we need to remain competitive in the market and to continue building a sustainable, strategic presence here.  
What are Miami's top business assets? Why is Miami the best place for your business?
Miami is the gateway to South America, and we'd like to think that the airlines that comprise LATAM Airlines Group and the amazing people in our Florida based operations play a supporting role for not only moving both cargo and passenger traffic through this great Florida gateway, but also contribute to its economic growth and viability.   We've been operating at MIA since 1958, and have had our cargo global headquarters here since 1991.
What are Miami's biggest challenges?
As the gateway to South America, the local Miami economy, especially in terms of trade and tourism, can't escape being affected by the overall performance of the economies in the region and the issues that affect it. 
What's next for your business/industry?
The airline industry on the global level is healthy, but due to the current economic challenges affecting some countries in the region, the airline industry is South America is facing a tougher scenario.  In this context, we are permanently evaluating opportunities to rationalize capacity throughout our network, especially in Brazil. We are convinced that cost efficiencies are critical and, as we aggressively pursue cost savings initiatives, we seek to maintain the passenger experience at the center of our strategic decision making.
What do you like best about living in Miami?
My favorite thing about Miami is its rhythm, made up of the different languages that are spoken, the music, the food, the energy, diversity, and the beautiful beaches and waterways. I love living here and I love doing business here. Miami is the Capital for Latin America and is becoming more important as more flights and better connections are added to Europe and Asia. 
Education Champion Dr. Irma Becerra Honored For Service to the Community
St. Thomas University Provost Dr. Irma Becerra was honored for her service and dedication to the field of higher education presented by the South Florida Hispanic Chamber of Commerce (SFHCC). Becerra, who was honored with the Leadership in Education Award, was among several influential Hispanic South Florida leaders being honored in different categories during SFHCC's Hispanic Leadership Awards.
Becerra was also instrumental in developing the education component for The Beacon Council One Community One Goal initiative. She helped pull the Academic Leaders Council together, she coordinated the initial meetings and agendas. She also was the catalyst behind the Talent Development Network. 
Miami Herald Launches South Florida Visionaries Awards
The Miami Herald has launched an important new initiative to annually recognize those who by design or DNA are working to make South Florida a better place to work and live. The Visionaries awards span a baker's dozen of genres important to our local economy, including culture, business, development, philanthropy and healthcare. Among the categories is one for Visionaries who are under 40. 
Please nominate those you feel are worthy of consideration. Details about the nomination process 
can be found here

.
 Deadline is March 30. 
eMerge Americas Coming Soon 
April 18 & 19
 
Embark on a discovery-driven journey where ideas flow freely and innovation rules. Set in the growing tech hub of Miami, eMerge Americas brings together industry leaders, investors, government officials and entrepreneurs from North America, Latin America and Europe. It's two days of summits, keynotes, startup competitions, networking events in Miami's most iconic venues, and more. Like every great journey, it will leave you changed. Beacon Council Members receive a 25% discount off any eMERGE pass. Our discount code is: CP-EA-054
GIS Website Features Available Properties
The Beacon Council and Miami-Dade County website www.miamidadesites.com features available vacant industrial and commercial properties. It is based on user-defined criteria for Miami-Dade County utilizing geographically based demographic and business information. 
It also enables commercial real estate brokers to register and highlight available parcels. Listings are provided at no cost 
and reach a targeted audience including Site Selectors/Consultants, Real Estate Developers, and businesses pursuing new opportunities in Miami-Dade County. Listings are featured regularly in this newsletter. 
 

Featured listing of the week:
One Park Square
Address: 3470 NW 82 Avenue
City: Doral
County: Miami-Dade County
Zip Code: 33122
Type:R&D, Restaurant, Office Building
Min Size:1,801 sqft
Max Size:32,700 sqft
Publication Date Long:
March 28-April 4, 2016 NEWSLETTER
Left Side:
Did you know?
There are more than 1,000 computer service establishments in Miami-Dade. 
Find more data about our community at:
The Beacon Council in the News
Speech of Vice-Prime Minister Pavel Bělobrádek in Beacon Council, Florida (21st March 2016) (Government of the Czech Republic)
$250M Telemundo media center to be built in Doral
U.S. -Mexico Chamber of Commerce Seminar 
Tuesday, March 29
IT Services and Outsourcing the U.S. – Mexico relationship
Jurnid Sessions: The State of Miami's Tech Hub
Wednesday, March 30 @ Miami Ad School
Lyndi Bowman, of The Beacon Council, joins the panel discussion about the state of the tech growth process.
The Arts and Business Council of Miami invites you to Breakfast with the Arts
and Hospitality
Thursday, March 31
8 to 10 a.m. at the Intercontinental Hotel, 100 Chopin Plaza. 
 
Celebrate a Great Year by Taking Your Intern to Lunch
Friday, April 1
@Morton's Steakhouse in Coral Gables
How Miami is implementing new technology to attract and retain investment
Panel Discussion
Thursday, April 14
Keynote: Alberto Carvalho, Superintendent, Miami-Dade Public Schools
Panelists:
* Steven Altschuler, CEO, UHealth
* Dean Eugene W. Anderson, School of Business Administration, University of Miami
* Brian Brackeen, Kairos, CEO
* Jaret Davis, Miami Co-Managing Shareholder, Greenberg Traurig, and Beacon Council Chair-Elect
* Carlos Rosso, President Condominium Development, The Related Group 
African American Achiever Awards
Wednesday, April 20 
The Beacon Council Chair-Elect 
Jaret L. Davis, Co-Managing Shareholder of Greenberg Traurig's Miami office, is one of the 2016 Honorees of the JM Family African American Achievers awards. 
14th Annual Beacon Awards
Wednesday, May 4 @ Hilton Miami Downtown
Bottom Side:
As Miami-Dade County's official economic development partnership, The Beacon Council is charged with bringing new, job-generating investments to the community, while assisting existing businesses in their efforts to expand. By doing this, The Beacon Council facilitates the creation of quality jobs for each and every resident of Miami-Dade County. The Beacon Council is an accredited economic development organization. 
Will you join us? Call Member-Investors at

(305) 579-1326
(305) 579-1326
Source: Old Beacon Site
https://www.beaconcouncil.com/wp-content/uploads/2016/05/S.gif
1000
1000
wpengine
https://www.beaconcouncil.com/wp-content/uploads/2020/06/MDBC_rgb_color_hz.png
wpengine
2016-05-23 15:52:38
2016-05-23 15:52:38
North Miami: a City on the Move