Telemundo Video Showcases New Headquarters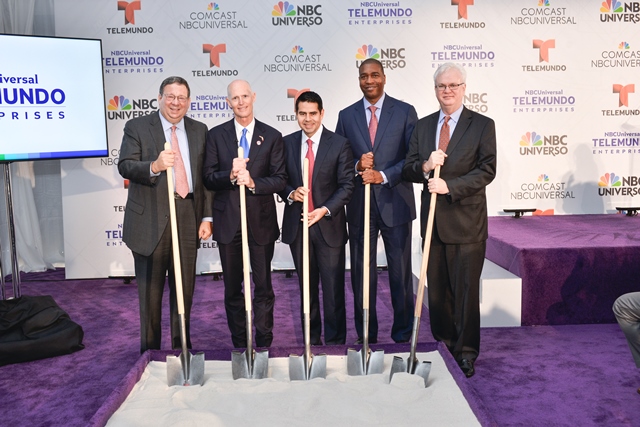 David L. Cohen; Florida Gov. Rick Scott; Cesar Conde; Russell Benford and Larry Williams at the groundbreaking ceremony of the new state of the art global headquarters of Telemundo in west Miami-Dade.
(Miami, FL – Feb. 10, 2016) – The Beacon Council congratulates NBCUniversal Telemundo Enterprises'  on its decision to make Miami-Dade the site for its new global headquarters, adding 150 new jobs and investing more than $250 million.
"This is great news for Miami-Dade County and Telemundo," Miami-Dade County Mayor Carlos A. Gimenez said. "Telemundo has been a major employer in our community for decades and its continued growth is further evidence that the company is an industry leader and that Miami-Dade County continues to be a place where companies of all sizes and across all industries want to be."
The Beacon Council worked with the company for three years evaluating potential sites and negotiating a $3 million Miami-Dade County Targeted Jobs Incentive Fund (TJIF) package in cooperation with Enterprise Florida, Governor Rick Scott's office and Miami-Dade County. The TJIF is paid out over 6 years based on job creation and investment commitments made by the company. The TJIF is a performance based incentive; no tax refunds will be released until job and investment project commitments have been verified. The State of Florida also approved a $5.5M High Impact Performance Incentive (HIPI)  and a Capital Investment Tax Credit  (CITC). 
"This decision showcases Miami's status as a national leader in media production especially for Spanish-language TV  content creation, production and distribution," The Beacon Council President & CEO Larry K. Williams said. "We value our partnership with Telemundo and look forward to continuing to support them as they continue to grow."
NBCUniversal and parent company Comcast is building the division's new global headquarters and bringing all of the division's offices, broadcast and production operations under one roof including the Telemundo Network, Telemundo Studios and Telemundo International, as well as its cable network NBC UNIVERSO, its digital media operations, and NBCUniversal International's Latin American headquarters.
"This is a very important step in the evolution of our company at a time when we're enjoying tremendous momentum and have just wrapped a record-breaking year," said Cesar Conde, Chairman of NBCUniversal Telemundo Enterprises and NBCUniversal International Group.  "Our new global headquarters will fold all of our division's offices and production studio spaces into one state-of-the-art facility that will help us do business in a more collaborative way. This significant investment clearly underscores once again NBCUniversal's and Comcast's long term commitment to our business and the U.S. Hispanic market."
Equipped with the latest production technology, the new headquarters will be an advanced television production facility. From its new global headquarters, NBCUniversal Telemundo Enterprises will be poised to provide more compelling Spanish-language programming and multiplatform connections to the growing US Hispanic market and audiences around the world. The headquarters will initially house 1,100 employees, with the capacity to expand to approximately 1,300 employees.
The company held a groundbreaking ceremony at the site on the corner of NW 25 Street and Northwest 121st Court on Feb. 9.
About The Beacon Council
The Beacon Council, Miami-Dade County's official economic development partnership, is a public-private organization celebrating its 30th anniversary. Since 1985, the nonprofit has assisted more than 980 businesses that have created more than 65,000 direct jobs and added more than $4 billion in new capital investments. The organization accomplishes this by marketing Miami-Dade as a world-class business location, growing local companies and shaping the local economy's future. For more information, visit www.beaconcouncil.com
###
Source: Old Beacon Site
https://www.beaconcouncil.com/wp-content/uploads/2016/02/ea7d24f8-86a8-4662-977a-c7d0e3f9b3de.jpg
427
640
wpengine
https://www.beaconcouncil.com/wp-content/uploads/2020/06/MDBC_rgb_color_hz.png
wpengine
2016-02-10 19:13:59
2016-02-10 19:13:59
Telemundo Chooses Miami-Dade for its new Global Headquarters